M
oms take up various roles, but the critical one  is cooking a healthy meal for the family. Dads do  help in household work , but cooking and getting a healthy meal on the table mostly  falls on the mother's shoulders. I generally love to try different recipes for a dish until I hit the one everyone likes in the house.
Vegetable Briyani is not something my mom made at home, I have always ate it in the restaurants. Usually restaurant briyani  are too spicy  or too oily or has very less veggies, or  it is just rice and lacks flavor. I have always wanted to try making it at home. Then I kept searching for a good recipe and finally found one. I made  notes of this recipe from a video by Chef Menu Rani Chellam.
People who have tasted this Briyani have always asked me for the recipe .So here you go !!! .This recipe involves marinating the masala mix the night before, then cooking the veggies and the rice separately and mix them all.
Ingredients needed:
 For marinate :
Yogurt – 2  cups
Fennel seeds – 2 tsp
Turmeric powder – 1 tsp
Chilli powder – 1 tsp
Garam masala -1 tsp
Coriander powder -1 tsp
Cardamom -3 pods
Cinnamon sticks -2
Ginger garlic paste – 2 table spoon
Star Anise -3
Bay leaf – 3 leaves
Cilantro chopped – 1cup
Mint chopped – 1cup
Tomato diced – 1 cup
Vegetables required:
Carrot chopped  -2 cups
Beans chopped – 2 cups
Cauliflower – 2 cups
Potato-1 cup
Peas -2 cups
Onion – 1 cup
Bell Pepper -1 cup
Basmathi Rice – 2 cups
Ghee – tsp
Marinate:  Keep  yogurt as the base and add all the ingredients in marinate section and let it marinate for 2 hours. It looks like this :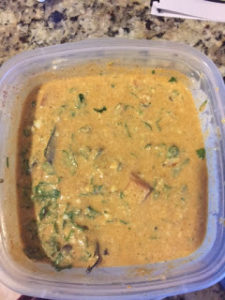 Cooking rice :Soak basmathi rice for 20 minutes. In a pan add some ghee, fennel seeds, bay leaves ,cardamon. After the fennel seeds turn color add the rice and add water in ratio of 1: 1(For 1 cup of rice add 1 cup of water). Close this with a lid and wait till the rice cooks.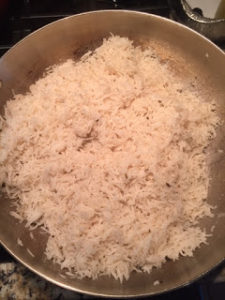 Cooking Veggies: Add all the vegetables and salt in a vessel and  cook  in a pressure cooker for 2 whistles. Steam cook the vegetables meaning, pour water only in the cooker vessel, not inside the vessel with vegetables.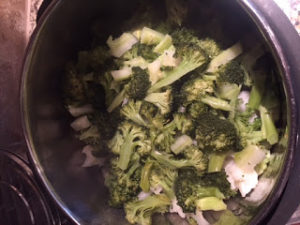 In a pan add add a teaspoon of ghee, fennel seeds and then fry onion and bell pepper , add a pinch of salt.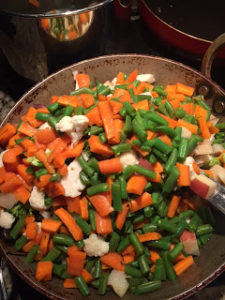 After onion and capsicum is fried add the vegetables and mix them.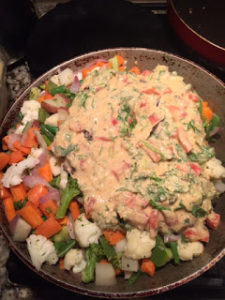 Then add the marinate to this mix
The curd will ooze some water. Cook the mixture well, add some Briyani masala at this point if you feel you need more masala. You can add soy chunks at this point(optional).  Let it cook completely until all raw smell is gone.
Add this mixture to rice and sprinkle the remaining coriander and mint leaves as you mix.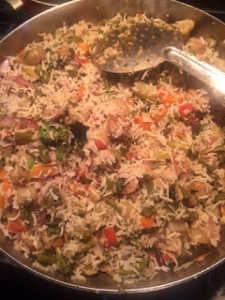 Yummy vegetable briyani ready. Serve it hot with onion ratia and enjoy !!
To get updates please do like our Facebook page https://www.facebook.com/Indousmoms-866511393382329/