H

ave you ever done something that made you feel very good and thought to yourself  "Why haven't  I done this more often?". I experienced it last week, read more and I will tell you all about it.
Handling pain in any part of your body, be it back or wrist or shoulder and doing your daily chores is not easy.When I was young my parents used to complain about back issues or joint pains only after they were in their 50's,. These days , due to the nature of our job, the stress we go through at home and work, not having the time to cook our every meal, most of us develop joint/back/shoulder/neck issues as early as 30 years. 
Last Monday I woke up with a bad  shoulder  and right wrist pain. It was a sharp pain and not being able to do things as fast as I usually do  was very frustrating. I had hard time sleeping due to the pain. I tried to do stretches and yoga to see if it would help, it didn't. I tried talking to the nurse at work, she told me it could be my posture. The number one culprit for such  pains is  having desk job and not following the ergonomics correctly. The nurse suggested me to start using my left hand to operate the mouse.I tried cold pack that didn't work. Finally I booked an appointment with my doctor.
On Wednesday  I saw the below picture about the benefits of  "Massage" online :
.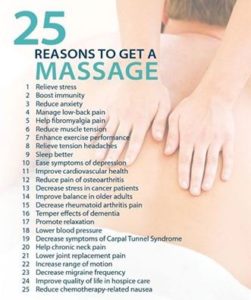 After I saw this ,I realized  that I haven't gone for a massage in the last 3 years. I had bought this groupon online  Therupetic massage with Jodie Brown   and completely forgot about it.
I immediately called and set an appointment for the very next day. I went with zero expectations. It was a small place, Jodie the massage therapist welcomed me. I explained to her about my pain . She did  a wonderful job with aromatic oils, warm towels and soothing music. That 1 hour just flew by. After the session , I felt so good. It was very relaxing and it  did help me with the pain. I was able to sleep better that night. I was wondering why I didn't do this more often ?? 
Days just go by and we try to rush into everything, but remember you all need some time for yourself. Stop the madness and do something good for yourself now and then. Believe me you will never regret it.
If you like this post and would like to get future updates please like my FB page or subscribe by providing your email id.