I want to share this healthy porridge recipe known as health-mix or Sathu maavu (in Tamil). I got this recipe from my mother-in-law. We drink this everyday morning since it is much healthier than cereal or any other breakfast. We avoid cereal in our house since it has too much sugar and it is highly processed.  Once you buy the required ingredients online or from store this porridge mix  is very simple and easy to make. Sometimes people use this mix and make some sweets as well. It had a lot of goodness in it that makes it a wholesome meal. It is high in protein and will help in weight loss. It is a healthy breakfast for kids and old people as well.
Ingredients required are :
Sabudana – 2 pounds
Barley -2 pounds
Millets -2 pounds
Roasted gram– 2 pounds
Wheat grains – 2 pounds
Raw peanuts – 2 pounds
Corn grains – 2 pounds
whole green gram – 2 pounds
Ragi – 2 pounds
Cashew nut – 1/2 cup
Almonds – 1/2 cup
Cardamon – one handful
Dry roast all these ingredients separately on low flame until raw smell is gone. Then mix them and let it cool. It will look like this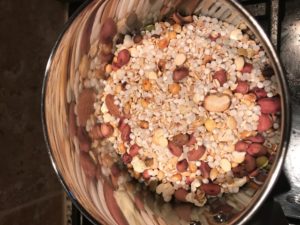 Store this mix and grind as and when needed in a blender. If you get only powdered ingredients (for example ragi)  instead of grains you can dry roast the powder  and add it to the final powdered mix. I usually grind the mixed ingredients in batches and store them so the flavor is preserved. Once you grind it, it will look like this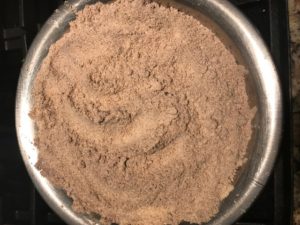 To prepare kanji porridge:
Take 2 cups of water and add four tablespoons of the flour and mix till it dissolves. Then turn on the flame and stir till the mixture gets thick then turn off the flame. Add boiled milk and sugar to it.  Other alternative method is to mix buttermilk with it .It tastes really yum !!!.
If you are sick you can have it with rasam (tomato soup) also.
For more interesting recipes and much more please like my FB page and subscribe to my blog. Thanks for taking time to read this and see you soon with an interesting topic.