During pineapple season I make Pineapple fried rice and it is something everyone loves in our house. My kids enjoy this delicacy . I will share the recipe in this this post, also I have provided the  links to see the ingredients I used.
The key to this is you have to make it in Jasmine rice . You have to cook the Jasmine rice in 1:1 ratio. Add sesame oil , turmeric powder , turmeric has very good anti inflammatory properties. It is very good to use it in our cooking. After adding these ingredient to the water , cook it in a rice cooker the day before. Let it cool down and mix it with salt and kitchen king masala and keep it in the refrigerator. This rice has to stay in the fridge for at least 8 hours.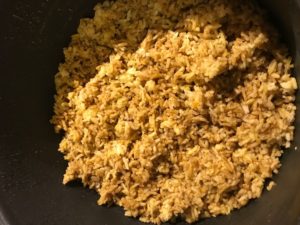 Cut the below veggies in Julian cut
Carrot
Bell Pepper (Green, Red, Yellow)
Brocolli
Beans
Cabbage
Green onion (Cut the bottom and the top part separately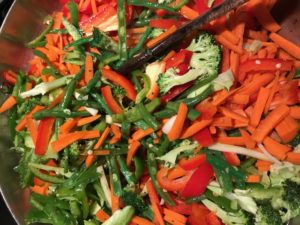 Then chop ginger and garlic into fine pieces.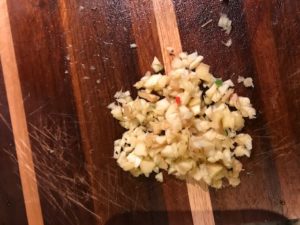 Now add sesame oil in a pan and roast the ginger garlic and then add the veggies, add some salt and soy sauce.
Once the veggies are half fried , keep them in a seperate vessel. Now cut the pineapple into cubes. In a pan add the pineapples, salt and crushed red pepper and saute it.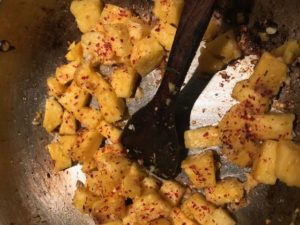 Then add the veggies and rice and mix it well.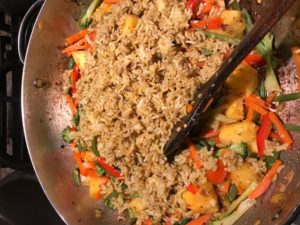 At this point check for salt and masala. You can add a little bit of both and then garnish it with coriander leaves and fried cashes and raisins. Enjoy your meal.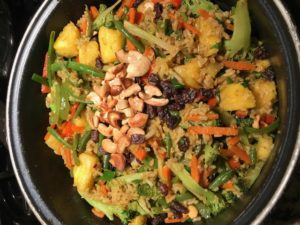 Please join this Face Book group IndoUSMoms Deals  for everyday deals and also discussion on interesting topics.